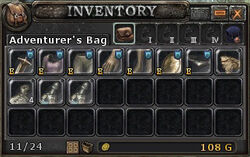 Select Equipment/Status from the Main Menu or Click the Equipment/Status Icon at the bottom of the screen to open up the Equipment (inventory) menu and equip weapons and armor.
Equip an item by either double clicking on the item in your inventory or dragging the item onto the equipment page. Some items will have specific requirements. You won't be able to equip items if your class or character level doesn't meet those requirements.
Enemies will attack all over your body. Make sure to equip items in each slot to decrease the damage you receive.
Bags can be obtained through storyline quests, and some 4 slots may also drop (rarely) from mobs in Caligrase Sewers.
Cloak RoomEdit
While it's always great to be prepared for anything, you may not have enough space for all the items that you find.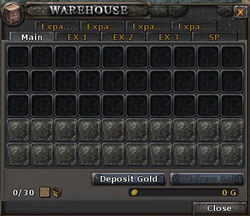 Any items that aren't immediately useful can be stored in the Cloak Room. There are several locations around town. Any items put in the Cloak Room are safe from looting.
You can also use Cloak Rooms to share items across your Soul. Each character on your Soul will share the same Cloak Room. Be sure to store items in the Cloak Room to take advantage of their convenience and safety.
Community content is available under
CC-BY-SA
unless otherwise noted.