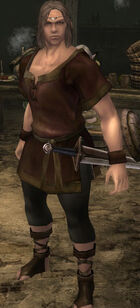 Main articles: Getting Started, Classes
Fighter characters are easy to play due to their high HP and excellent balance between attack and defense. By leveling up, Fighters can specialize in either attack or defense. However, Fighters cannot learn magic and are not skilled at avoiding magic attacks.
Fighters who invest in the Rush Strike tree will be able to deal enormous amounts of single and multiple target damage while still maintaining a fighter's innate durability.
The Core Guard tree offers less in offensive power, but provides the greatest defensive prowess in the entire game. Defensive fighters may be less suited for solo play, but are potentially irreplaceable in party oriented encounters.
| | |
| --- | --- |
| Difficulty: | Easy |
| Survivability: | High |
| Play Style: | Tank and/or Melee DPS |
| Alignments: | Lawful, Neutral, Chaotic |
| Requirements: | STR 8 |
Class Guides
Edit
Class Specialties
Edit
| Passive Gained | Clvl acquired |
| --- | --- |
| GP recovery time decrease | 1 |
| MAX hp increase (40) | 3 |
| Hate increase | 7 |
| GP damage decrease | 12 |
| Physical defense increase (10) | 18 |
| GP recovery increase | 23 |
| Max HP increase | 28 |
| GP recovery time decrease | 33 |
| Physical defense increase | 38 |
Rush Strike
Edit
Icon
Name
Effect
Level Requirements

Bash
Unleashes a single powerful hit with your full might.
1st lvl already known

1 - 1 - 5 - 5 - 8 - 15

Leg Bash
Decreases movement speed of target.

Use following bash to increase strength.

2 - 2 - 2 - 6 - 6 - 9 - 16

War Cry
Increases STR for all party members in the effect area.

OD is also recovered for Neutral characters.

3 - 3 - 3 - 8 - 9 - 14 - 21

Round Sweep
With one sweep a blade of air is unleashed, damaging those nearby.

Strength is increased for Lawful characters.

4 - 4 - 4 - 9 - 10 - 15 - 22

Head Bash
Decrease the physical attack power of your target.

Use after leg bash to increase strength.

5 - 5 - 5 - 10 - 12 - 17 - 24

Guard Crush
Breaks target's guard with a powerful strike.

Strength is increased for Chaotic characters.

7 - 7 - 7 - 12 - 14 - 19 - 26

Max Weight Increase
Increases max carry weight.
8 - 8 - 8 - 13 - 15 - 20 - 27

Power Charge
Allows player to charge for a fixed time and then unleashes two powerful strikes.

Players are unable to attack while charging but can move and block if shield is equipped.

8 - 8 - 8 - 13 - 15 - 20 - 27

Shock Wave
Unleashes a shockwave that damages enemies.

(Ranged Ability)

13 - 13 - 13 - 18 - 21 - 26 - 34
Deadly Pain
Decrease the Magic attack power of your target as well as the amount healed
12 - 14 - 16 - 18 - 20 - 25 - 30

Physical Attack Increase
Increases physical attack.
18 - 22 - 28 - 35 - 41- 50 - 61

Desperado
Greatly decreases physical defense but massively increases physical attack.
20 - 20 - 20 - 25 - 28 - 32 - 40
Morale Uplift
Increases all parameters of party member within range
20 - 23 - 27 - 32 - 40 - 48 - 60
Brave Style
Increase physical damage of frontal attacks as well as hard hit rate within effect time.
25 - 30 - 35 - 40 - 46 - 52 - 58
Chain Arts
Allows user to combo all physical skills within effect time

25 - 35 - 43 - 55 - 68 - 73 - 80

Voltage
Increases Max OD for a fixed period of time.
27 - 27 - 27 - 33 - 36 - 42 - 52

Piercing
Ignores a certain percentage of the target's defense value when attacking. Effect lasts for a certain period of time.
28 - 28 - 28 - 34 - 37 - 43 - 53

Hard Blow
Unleash powerful attack forward, blowing your enemies away.
34 - 34 - 36 - 38 - 40 - 45 - 50

Capture
Pulls target towards caster and binds the target to the spot. Causes the target to be more succeptible to damage.
36 - 42 - 48 - 54 - 62 - 69 - 76
Guard Core
Edit
Icon
Name
Effect
Level Requirements

Defend Stance
Decreases physical attack, increases phyiscal defense.
1st lvl already known

1 - 1 - 5 - 5 - 8 - 15

Self Heal
Recovers your HP.
1 - 3 - 6 - 10 - 15 - 20 - 30

Sentinel Guard
Decreases GP damage when guarding.
2 - 2 - 2 - 6 - 6 - 9 - 16

Provoke

Provokes enemies, drawing their attention.

Shares recast time with insight.

3 - 3 - 3 - 7 - 7 - 10 - 17

Avenge
Stores damage received and returns it with the next attack.

May cause target Chaotic characters to faint.

4 - 4 - 4 - 9 - 10 - 15 - 22

Hate Increase
Increases the max amount of hate accumulated.
5 - 5 - 5 - 10 - 11 - 16 - 23

Physical Defense Increase
Increases physical defense.
6 - 12 - 20 - 29 - 30 - 38 - 47

Rage
Increases OD received on damage over a fixed period of time.

For Neutral characters, damage will be cut.

10 - 10 - 10 - 15 - 17 - 22 - 29

GP Recovery Up
Increases the amount of GP recovered at one time.
11 - 11 - 11 - 16 - 18 - 23 - 30

Over Use
Sacrifices HP to greatly increase physical and magical defense.

Enables super armor effect for Lawful characters.

20 - 20 - 20 - 25 - 28 - 33 - 41

Increased Resistance to Mental Status Effects
Increases resistance to mental status effects.
21 - 21 - 21 - 26 - 29 - 34 - 42

Offensive Guard
Increases attack power following a successful guard.
22 - 22 - 22 - 27 - 30 - 35 - 43

HP Max Increase
Increases max HP.
31 - 35 - 40 - 45 - 50 - 55 - 60

Iron Shell
You will become unable to move or act, but most damage will be reduced to 1.

32 - 32 - 32 - 38 - 41 - 47 - 57

Insight

Provokes enemies and draws their attention.

Recast time is shared with provoke.

31 - 31 - 31 - 38 - 38 - 45 - 50
Fighter Skill Tree
Edit