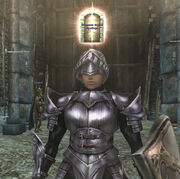 Entering Dungeons
Edit
In Hero's Square of Illfalo Port, talk to the Dungeon Guide NPC to open the Dungeon Selection window. Choose a dungeon and channel to enter the dungeon.
Note that you'll need entry permits for each dungeon you wish to enter. You'll receive entry permits for new dungeons when you complete certain Story Quests.
List of Dungeons
Edit
The following is a list of all locations found in Wizardry Online.
Story Line Dungeons
Edit
A 'Story Line Dungeon' in Wizardry Online is a dungeon which must be completed in sequence in order to progress and open the next dungeon.
Note that dungeon progression in Wizardry Online is "Soul" based and not "Character" based. This means once you open a new dungeon, this dungeon is available to all characters for that particular "Soul" despite the character's actual character level.
This is what allows for quick character progression later when creating a new character or when class-changing an existing character.
Sub-Dungeons (Non-Story Line)
Edit
A 'Sub-Dungeon' in Wizardry Online is a non-story-line based dungeon. These dungeons, generally speaking, are not required for the progression of the story-line in the game.
Gauntlet Dungeons
Edit
A 'Guantlet Dungeon' in Wizardry Online is a based on limiting factors such as time, levels or number of lives. The goal is to progress as far as you can in the dungeon based on that limiting factor.
Template
Edit
Location Template - Please use this for every following dungeon. Thank you.
Community content is available under
CC-BY-SA
unless otherwise noted.