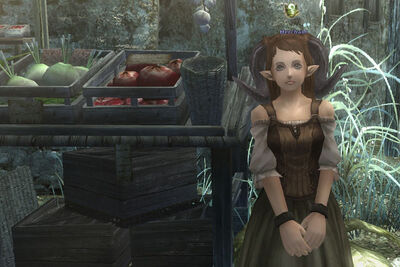 Click on Alesche again to continue the mini-missions. From the list that pops up, click on Adventurer Musts. Then click OK to confirm. She will instruct you to seek out Lotte at Vortak's Items. She'll give you another invitation to introduce you. Do note that Alesche refers to Lotte as a "he" but Lotte is in fact a "she."
Now click the Accept button and then click OK to confirm. For your convenience, the NPC will once again get added to your mini map.
Merchant Lotte is a gnome girl standing next to a vegetable and fruit stall. She's timid, but she'll explain the basics that you'll need to know about items. She will sign your invitation and then give you 10 Experimental Simple Camps. After this, a Help dialog will pop up, explaining about Identifying Items.
Return back to Alesche to turn in this mission Click the Report button and then the OK button to confirm.
Rewards:
50 Experience Points
10 Gold
10 Experimental Simple Camps